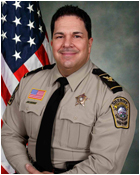 Sheriff
David P. Decatur

DARE Day 2016 - Click to See Additional Photos
EMPLOYMENT

HEROIN, HEARTBREAK, HOPE

SINK OR SWIM

Anti-Drug Initiative

CRIMESOLVERS

Text "Stafford (plus your tip)" to "Crimes" (274637)

ACTIVE SHOOTER

ACTIVE SHOOTER RESPONSE GUIDE

Killed in the Line of Duty
October 9, 1980
JAG Grant Proposal 2016-Project Abstract

Member Denise Harman, June 30

Ground Search and Rescue Vehicle/Specialty Vehicle Navigation/Radar/Call Out Clothing

The Stafford County Sheriff's Office is a full service local law enforcement agency providing service to approximately 142,000 residents and thousands of annual visitors to Stafford County, Virginia. The Department provides service through 262 dedicated employees, including 184 sworn deputy sheriffs. The Department ... (Full Story)






Kevin S. Lynch - 2008 VA Driver's License Photo

Arrested Man Used Multiple Aliases

Public Information Officer M.C. MORRIS MONCURE, June 29

In the early morning hours of Saturday, June 25, 2016 Deputies E. Houde and D. Pinzon with the Stafford Sheriff's office responded to a disturbance call at Buffalo Mo's located on Wicomico Drive. A patron, who was intoxicated at the time, was unwilling to pay his bill and was attempting to steal someone's car keys. Staff at the establishment obtained the patron's Ohio driver's license and detained ... (Full Story & Photos)


Larceny and Vandalism at White Oak Road 7-Eleven

Public Information Officer M.C. MORRIS MONCURE, June 27

At approximately 4:25 a.m. on Monday, June 27 2016 a man entered the 7-Eleven and stole one hundred dollars and a cash drawer from behind the counter. There were no customers in the store at the time and the clerk was in the restroom. Video surveillance shows the unknown suspect entered the store and was holding what looked to be a handgun. Not seeing anyone else in the store, he then removed ... (Full Story & Photos)


Suspects Cause Thousands of Dollars in Damage

Public Information Officer M.C. MORRIS MONCURE, June 17

The Stafford Sheriff's Office answered two Breaking and Entering calls this week at the local offices of Aggregate Industries on Warrenton Road. The first call was answered on June 13 at approximately 5:45 a.m. and the other on the following morning at approximately 6:00 a.m.

Significant damage was done in the office building as well as to the company vehicles, including cement mixers. The perpetrator(s) ... (Full Story)





Breaking and Entering Attempt Thwarted with Community's Help

Public Information Officer M.C. MORRIS MONCURE, June 17

On June 15, 2016 a homeowner on Park Cove Drive in the Park Ridge subdivision noticed pry marks on his door and believed they were a result of someone attempting to break into his home. He decided to stay at home the following day and make sure his property was secure.

On June 16, 2016 at approximately 12:20 p.m. the homeowner was watching television in his living room when he heard glass breaking ... (Full Story & Photos)



Richard Lee Snyder, Jr.